I am HONORED to recieve the "Honest Blogger Award" from an amazing blogger herself, You should check She w0rd hustlez...would i lie to you? lol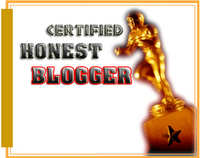 Ok well it seems that we cant just give these things away to anyone, nope, theres actually a criteria of some sort and here are the requirements:

* inspire you
* make you smile and laugh
* give amazing information
* are a great read
* have an amazing design
* and/or any other reason that makes them Uber Amazing!
Because im not one to recieve something and not pass it on i think I'll choose a couple of people who i think deserves this award as well. These are people who i sometimes end up neglecting my blog to figure out if they've updated theirs. Alot of them are really personal and give in depth looks into their life.
TEEMS
CYN
Tiana M0nique
Evolutions of a China Doll
Plain Jane
Im actually lazy and dont feel like posting any more links and actually getting the URL's (Hey! this is an
honesty award
so I'll stop here but i WILL be posting links every now and again to blogs that i think are really great!
**UPDATE**
These are blogs that inspire me in their own way and actually HELP me through my days. I forgot TWO that actually help me the MOST..., Those two would be Cyn and Teems.