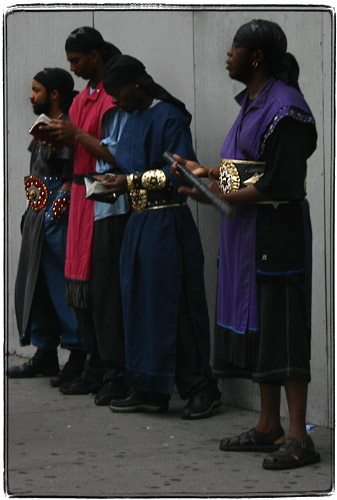 You ever see the guys outside dressed like Power Rangers Mystic Force (Ninja) edition? They have on long dresses robes and they try to preach to you about the true religion, and that Jesus was a black man because he had black feet and hair like wool?

Yeah..well every time I go outside one of them decides that I'm the perfect candidate (without even discussing this shit with me) for the religion. So they eventually got my phone number out of me because I ALWAYS wanted to be the Yellow Ranger. They called me and introduced me to the church.....

Then they tell me I have to come with a head scarf and I cant be on my period.

Oh Really? I cant be a WOMAN in church?

Your crazy, I don't believe in head scarves especially when I JUST paid 50 dollars to have Maria perm my hair at the Dominican Hair salon, and sat under that dryer for 2 hours. I also believe in doing whatever the hell it is that I want while I'm on my period....as long as i have Midol (Sometimes Tylenol with Codeine for that extra high, extra cramp free feeling).

I'd prefer NOT being your yellow ranger. Thank You.